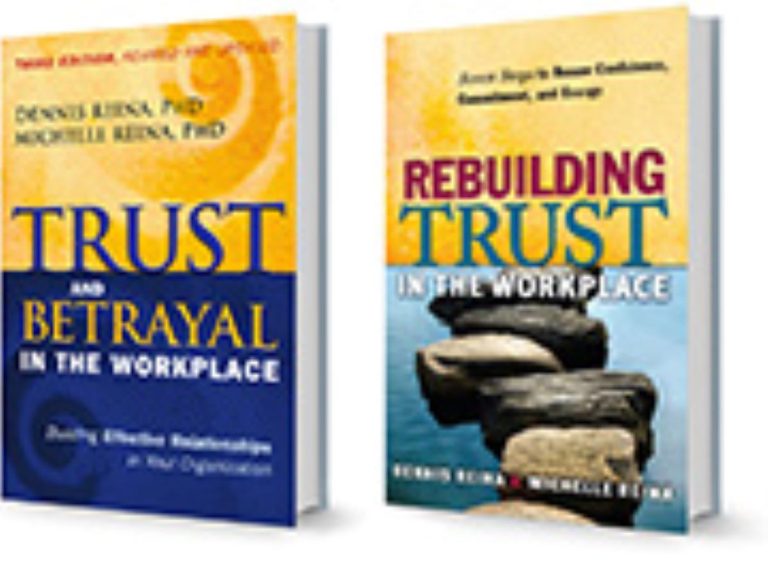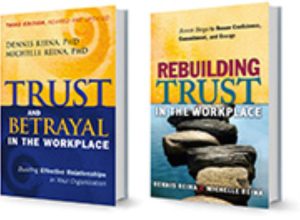 Trust is a topic that is most often taken for granted … until it erodes or breaks down.
Then what happens?
Across the board, in teams around the world, we've discovered research and practice, that when trust breaks down, people tend to wait for others to step in and restore it. While people wait, they withhold. They build barriers around themselves and their areas of responsibility.
Work gets slower and harder. Energy plummets. Business objectives are not achieved.
Sound familiar?
When trust is compromised, nobody wins.
We, at Reina Trust Building® have been supporting leaders, teams and organizations to transform their workplaces through trust for over 31 years.
Our intention is to help you understand trust, talk about trust, and strengthen trust in your relationships at work. We're going to help you learn how to build trust – and work productively again.
You want to be trusted at work. We all do. We all want others to believe we're good, capable people, guided by the best intentions.
A truth about trust? It's reciprocal. To get trust, you have to give it first.
What does it look like when you give trust?
You 'walk your talk', tell the truth, and tap into others' talents and skills.
You also give people the benefit of the doubt when they let you down. You suspend judgment and criticism and make the effort to discover why they disappointed us. Your inner voice shifts from "I knew I shouldn't have trusted him!" to "I wonder what happened to keep him from delivering on his commitment?"
When you give trust, you embrace the complexity of life. You extend compassion… approaching each situation with sincere interest and concern, rather than with suspicion and readiness to blame. The result?
You experience the people around you mirroring your efforts. You receive back the support, understanding, and compassion you've given.
Trust begets trust.
How about the flipside? What does it look like when you withhold trust?
You approach let downs very differently. You're more likely to judge, criticize, and jump to conclusions. You tend to withhold information, keep our ideas and concerns close to our chests, and not ask for help when you need it. You may refrain from delegating even minor tasks, because you fear no one else can do handle the work as well as you can. The result?
Communication breaks down. Stress, doubt, and fear take over. Your work and relationships suffer. You suffer.
Distrust begets distrust.
Yet, when people are supported to take the initiative to rebuild trust, a shift occurs. People reconnect. Misunderstandings are worked through. Incorrect assumptions are cleared up. Barriers are broken down.
Work picks up pace and gets easier. The buzz returns. Together, people achieve more than they'd dreamed possible.
Everybody wins.
Building trust is not easy, but is necessary. Giving trust is more than just a 'nice thing to do.' It's a vital component to building meaningful, productive relationships.
We can all benefit from reversing our thinking about who 'owns' trust in our workplaces. The truth is…trust begins with each one of us.
What can you do to build trust in your relationships, with those you work with and serve and those you live with and love? What small steps can you take to connect with another person, and make that person feel confident and trusted?
Remember, Trust begins with you®.
---
About the Author

Michelle Reina, PhD and Dennis Reina, PhD. are considered pioneers in organizational trust by their clients. For over 31 years, they have helped leaders integrate trust-building behaviors into strategic initiatives to achieve outstanding business results and transform their cultures. The Reina's co-foundered Reina Trust Building® based in Stowe, Vermont. As sought-after consultants, speakers, & executive coaches, they co-authored best-selling books: Trust & Betrayal in the Workplace, 3rd ed. & Rebuilding Trust in the Workplace. Their awards include: Global Strategic Leadership Award, at the World HRD Congress, top 100 Thought Leaders in Trustworthy Business by Trust Across America. Their global clients: American Express, Ben & Jerry's, Johns Hopkins Medical Center, Johnson & Johnson, Harvard, Kimberly Clark, Lenovo, Lincoln Financial, MillerCoors, Turner (CNN), Yale, Voya Financial, US Army & US Treasury & Walt Disney World.
Contact us at www.reinatrustbuilding.com, or [email protected].
Related content from StrategyDriven
https://www.strategydriven.com/wp-content/uploads/books2.jpg
880
1200
Sharon Kastoriano
https://www.strategydriven.com/wp-content/uploads/SDELogo5-300x70-300x70.png
Sharon Kastoriano
2022-03-16 16:00:05
2022-03-16 18:42:34
Trust Begins with You