Recommended Resource – Creative Thinkering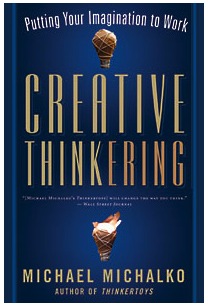 Creative Thinkering: Putting Your Imagination to Work

by Michael Michalko
About the Reference
Creative Thinkering
by Michael Michalko provides readers with actionable methods to tap into and broaden their natural creativity. Aimed at those who question their imaginative abilities, Michael reveals a systematic approach to generating new ideas through the association of two or more dissimilar subjects; resulting in the generation of entirely new products, services, and methods.
Throughout Creative Thinkering, Michael provides detail rich examples of his method's application as well as challenging the reader to develop his or her own capabilities through numerous thought experiments. These elements transform this book from one that simply provides a method into one that is a teaching manual; helping even the most rigid of thinkers expand their creative horizons.
Benefits of Using this Reference
StrategyDriven Contributors like Creative Thinkering because of its immediately implementable methods for expanding one's creative output. Michael clearly illustrates that anyone can be highly creative and through his plentiful thought experiments convinces even the most rigid thinkers that they too can be the source of highly original ideas. In a fast moving world that requires continuous adaptation, Creative Thinkering can help arm any professional with a crucial skill needed to remain competitive.
StrategyDriven Contributors have long benefited from Michael's insights on creativity. We thoroughly enjoyed his earlier book, Thinkertoys
and have applied the methods he prescribes therein to our work almost every day. If we had one criticism of Creative Thinkering it would be that Michael's new book is not as 'fun' as his last – but it is by all accounts just as valuable.
Overcoming ones creative doubts is a key ingredient to taking the actions necessary to remain competitive in our highly innovative and rapidly changing world. Michael's book provides those with such doubts a clear method for dealing with their rigidness and conceiving the truly unique; making Creative Thinkering a StrategyDriven recommended read.
Related content from StrategyDriven
https://www.strategydriven.com/wp-content/uploads/SDELogo5-300x70-300x70.png
0
0
StrategyDriven
https://www.strategydriven.com/wp-content/uploads/SDELogo5-300x70-300x70.png
StrategyDriven
2012-03-01 06:28:29
2015-09-17 21:58:31
Recommended Resource – Creative Thinkering