Recommended Resource – The Pivot Point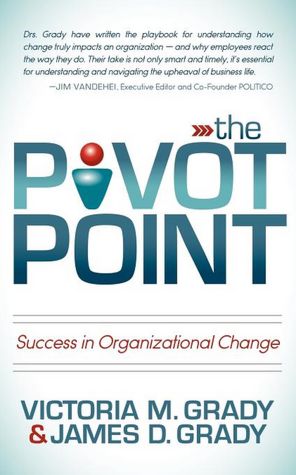 The Pivot Point: Success in Organizational Change
by Victoria M. Grady
and James D. Grady
About the Book
The Pivot Point
by Drs. Victoria and James Grady is a business novel presenting a unique perspective on effectively implementing organizational change based on group and individual psychodynamics. Within their book, Victoria and James examine decades of research into the ways individuals cope with loss and then relate these principles to the business environment. They conclude by providing methods for identifying and dealing with group and individual loss factors and reactions such that the desired organizational change can be implemented with a minimal loss of organizational effectiveness and productivity.
Benefits of Using This Book
StrategyDriven Contributors like The Pivot Point for its unique perspective on the group and individual psychology associated with organizational change. Victoria and James's point of view is deeply rooted in decades of sound academic research and refined by real world experiences. Not only did we find their assertions compelling, they matched our decades of group and individual observations and experiences.
The Pivot Point also provides methods for better dealing with these psychological challenges of change. The book prescribes implementable methods to address both the group and individual resistance factor in a constructive manner that is respectful of organizational personnel while at the same time progressive of the needed change. In some instances, however, change tools such as change readiness surveys appeared to lack the detail necessary to be immediately implementable and instead would require the services of Drs. Grady's organization to complete. We would have preferred to have had the book be more complete in these areas.
The Pivot Point provides a refreshingly new perspective on making effective organizational change that is well aligned with the philosophies espoused by StrategyDriven. For this reason, The Pivot Point is a StrategyDriven recommended read.
Related content from StrategyDriven
https://www.strategydriven.com/wp-content/uploads/SDELogo5-300x70-300x70.png
0
0
StrategyDriven
https://www.strategydriven.com/wp-content/uploads/SDELogo5-300x70-300x70.png
StrategyDriven
2012-11-01 06:45:21
2012-11-06 01:13:48
Recommended Resource – The Pivot Point