Recommended Resources – I Have A Strategy, No You Don't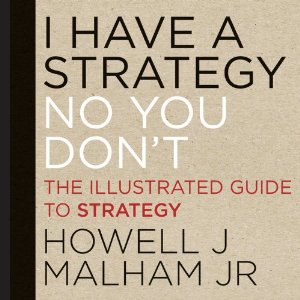 I Have a Strategy, No You Don't: The Illustrated Guide to Strategy

by Howell J Malham Jr
About the Book
I Have a Strategy, No You Don't: The Illustrated Guide to Strategy
by Howell J Malham Jr provides an illustrated definition of business strategy. Howell breaks down the concept of strategy into its component parts and illustrates these with real-world examples from renowned companies.
Unlike other business books, I Have a Strategy, No You Don't is structured as a playfully interactive dialog between two characters, Larry and Gary. Through these characters' conversations, Howell shares:
Common misconceptions about strategy
Four basic elements of strategy
Detailed models of effective strategies and why they work
Benefits of Reading this Book
Business leaders at all organizational levels commonly misuse the term 'strategy.' This misuse frequently results in miscommunications that ultimately lead to errant decisions and actions detrimental to the organization.
StrategyDriven Contributors like I Have a Strategy, No You Don't because it brings to light the seldom recognized but often damaging problem of leadership's misunderstanding of what business strategy is and provides a clear definition to help resolve the issue. While StrategyDriven Contributors don't fully agree with Howell's definition of strategy – we believe strategy represents a how not a what – we fully agree with the premise that an organization should define for itself what strategy is and then consistently apply that definition in its planning and execution efforts.
I Have a Strategy, No You Don't is a quick and easy read. Howell's examples of effective strategies come from well-known and respected companies making them relatable to the reader. For bringing to light and offering a solution to an age-old business planning and execution problem, I Have a Strategy, No You Don't is a StrategyDriven recommended read.
Related content from StrategyDriven
https://www.strategydriven.com/wp-content/uploads/SDELogo5-300x70-300x70.png
0
0
StrategyDriven
https://www.strategydriven.com/wp-content/uploads/SDELogo5-300x70-300x70.png
StrategyDriven
2013-04-04 06:12:25
2016-05-13 20:11:21
Recommended Resources – I Have A Strategy, No You Don't