Lead Like it Matters… Because it Does, part 4 of 4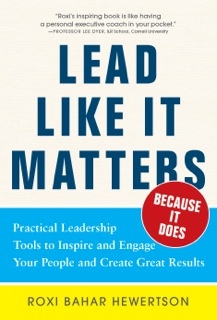 We asked Roxi Hewertson about the 8 overarching leadership insights that kick off her new book Lead Like it Matters…Because it Does
hitting the stores in just a few weeks. She agreed to share them with us as a four-part series. This is Part 4 of 4.
Insight 7: Most Change Efforts Fail and They Don't Have To
Charles Darwin did not say "It's all about survival of the fittest." Someone else decided to interpret his words and really screwed things up for a lot of us, including having people use that phrase to justify a lot of bad behavior. And that's not how life truly works. What Darwin actually said is, "It's not the strongest of the species that survive, nor the most intelligent, but the one most responsive to change."
People are naturally inclined to resist change. The irony is… what you resist will persist. When change is 'top-down' and those impacted feel they have no voice, people resist it even more. The wasted human energy and other resources that go down the big black sink-hole of most change initiatives is truly astounding.
Do we learn from our mistakes? Sometimes – but too often not a lot, and nearly always, not enough. Leader need to be able to lead change – there's no getting around it. How well you do that part of your job will make or break your organization and maybe even you.
Here are 4 suggestions to lead change initiatives that go well and actually stick instead of being dead on arrival:
Have and USE a change process
Empower and engage those affected by the change process
PULL don't PUSH change
Communicate, communicate, then do it again and again
Insight 8: Leaders Create and Destroy Cultures!
I love this quote from John Mackey of Whole Foods, "If you are lucky enough to be someone's employer, then you have a moral obligation to make sure people DO look forward to coming to work in the morning."
Indeed, you have responsibility for your workplace culture wherever your 'responsibility pond' may be, wherever your sphere of influence resides. It is your number one role to create, model, and support a workplace culture where the intended culture will thrive and the desired results will occur. It can take a lot of work to build and sustain a positive and productive workplace. And it can take a 'heartbeat' for one ineffective, bad, or lousy leader to destroy it. This IS your ecosystem and how healthy or toxic it is matters and you are the keeper of your 'responsibility pond' no matter how big or small it may be.
The leadership revolution I want to see happen in my lifetime would mean that we each are committed to building healthy ecosystems within our workplaces for generations to come.
Here are 4 suggestions you can do to help make that happen:
Know that the culture in your 'pond' IS your responsibility
Articulate your mission, values, and vision
Assess, correct, assess
Celebrate your people and your success
---
About the Author

Leadership authority Roxana (Roxi) Hewertson is a no-nonsense business veteran revered for her nuts-and-bolts, tell-it-like-it-is approach and practical, out-of-the-box insights that help both emerging and expert managers, executives and owners boost quantifiable job performance in various mission critical facets of business. Through AskRoxi.com, Roxi — "the Dear Abby of Leadership" — imparts invaluable free advice to managers and leaders at all levels, from the bullpen to the boardroom, to help them solve problems, become more effective and realize a higher measure of business and career success.
How can you make the leadership leap gracefully? Well, learning and practicing effective leadership skills is a good place to begin. When you read Roxi's book you'll be well on your way! Click here
to learn more.
---
The StrategyDriven website was created to provide members of our community with insights to the actions that help create the shared vision, focus, and commitment needed to improve organizational alignment and accountability for the achievement of superior results. We look forward to answering your strategic planning and tactical business execution questions. Please email your questions to [email protected].
Related content from StrategyDriven
https://www.strategydriven.com/wp-content/uploads/SDELogo5-300x70-300x70.png
0
0
StrategyDriven
https://www.strategydriven.com/wp-content/uploads/SDELogo5-300x70-300x70.png
StrategyDriven
2014-11-05 06:54:21
2015-09-17 23:37:33
Lead Like it Matters… Because it Does, part 4 of 4