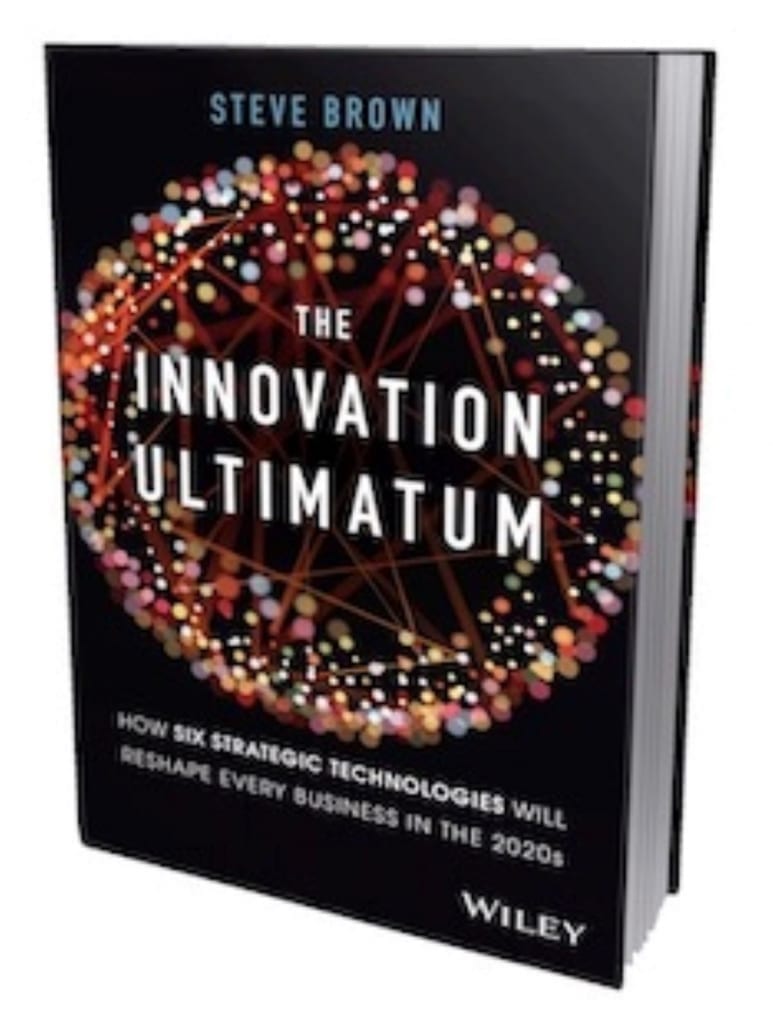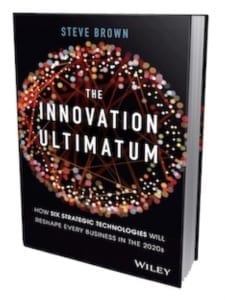 As our world deals with the COVID-19 pandemic, business leaders must understand that it's going to be technology that determines which companies survive and build success from this unprecedented event.
The current COVID-19 pandemic may be the biggest "unfreezing event" that our economy has ever experienced, certainly since World War II. To turn a block of ice into a new shape you must first unfreeze it, pour the water into a mold, and then refreeze it again. Human habits work much the same way. COVID-19 has forced us all to behave differently—To unfreeze. Our habits will mold into new shapes, habits and routines that may endure once the current crisis has passed. Businesses routines will have to change too. We are entering a new fluid state that will lead to an unprecedented period of innovation and transformation.
Before COVID-19, the world was already on a path to widespread change. In my book, "The Innovation Ultimatum: How Six Strategic Technologies Will Reshape Every Business in the 2020s," I outline the technologies that will drive unprecedented innovation into products and services in the 2020s, creating entirely new business models. The pandemic makes those technologies more relevant now than ever. These technologies are:
Artificial intelligence (AI)
Blockchain
The Internet of things (IoT)
Augmented reality
Autonomous machines
5G and satellite networks
While some organizations had begun to embrace these technologies before the pandemic, it's now critical that business leaders keep moving ahead with innovation efforts as we move into a new normal.
With social distancing, we have already seen new behaviors emerge: Increased use of telemedicine, online food delivery services, video conferencing, and home streaming services.
Online schooling is another example. While there has been some investment in online education by various institutions, that's going to accelerate rapidly as millions of kids are required to learn from home. Educators are installing digital infrastructure, learning how to use it themselves, figuring out best practices on how to get the most out of the medium, training kids on how to use it, and setting expectations for proper use. Once this investment of time, money, and trust is made, a new normal is created. When the current crisis is over, that investment remains, and the barriers to shifting at least some of the curriculum online are already gone. Where it makes sense, digital education may become a common part of all schooling.
This is a clear example of an acceleration. Education's shift towards digital was already underway. The constraints placed by pandemic only accelerated the inevitable.
The same applies for telemedicine. Here, the issues holding back the shift are not technological; necessary infrastructure is mostly in place. The barrier slowing roll out before the pandemic was that doctors couldn't bill as much for their time as for in-person visits to a clinic. Expect this challenge to be addressed quickly, and telemedicine to become a more important component of our healthcare systems in the future.
While it's premature to determine how the world might be different going forward, it's not too early to take a few educated guesses. Here are some initial thoughts on how things may be different, and how new technology might play a significant role.
Robots don't get sick. All businesses will make moves to improve business continuity and reduce risk. This may accelerate investment in automation technologies, including artificial intelligence, robotics, sensors, autonomous vehicles (e.g. for delivery), and blockchain technology. Self-driving delivery trucks and drones don't carry disease if properly cleaned. Even governance of operations can be encoded into blockchain networks and artificial intelligence.
Better supply chains. As part of a broader risk reduction exercise, we will see companies make moves to build more robust supply chains. Expect many measures here, including requirements for multiple sources across multiple countries, some onshoring (especially for critical components and products) and increased levels of transparency and traceability for goods in the supply chain. New provenance chain technology, based on Blockchain technology, can play a big role here. New automation technologies will make onshoring of manufacturing more attractive.
More remote workers. Again, to reduce risk, we may see bigger companies move away from large HQ campuses towards many connected, highly distributed sites. More people will work from home offices. This will constitute a balance between risk mitigation and rapid information flow in organizations. The high-speed connectivity of 5G and satellite networks will be crucial to this shift.
Social apps. New apps and services will emerge that help people remain social while keeping their distance. Humans are social creatures. Let's see which company will be first to capture the world's imagination with a new social game designed to connect far-flung family members of all ages.
A new reality. Virtual and augmented reality (VR and AR) technology will likely get far more use. VR offers a powerful sense of immersion, making you feel like you are transported to another place. At a time when that's one of the things that we can't do, people will crave the ability to visit distant places and to feel like they share the same space with family and friends. Avatar technology is improving, as are sensors that capture our movements and even our expressions. As low-cost, high-quality AR headsets become available in the coming few years, there is an incredible opportunity for developers to create new social experiences at a distance. Those could include, for example, an enhanced shopping experience in the home or better collaboration between remote coworkers.
A race for broadband. The next several weeks will make the value of a broadband connection crystal clear. Yet, broadband Internet is still not available to half the planet. People in rural areas are particularly disadvantaged. Satellite constellations, built by companies like SpaceX, OneWeb, LeoSAT, Amazon and others, will bring broadband connectivity to every corner of the earth by the end of the decade, much sooner in many locations. This build-out cannot happen quickly enough.
We live in unprecedented times. It's too early to call how this all plays out, and we should all expect our plans to shift over time as new information becomes available, but every company must begin to think about the new normal and build their business plans accordingly.
The pandemic has proved that in order to survive, every company must become a technology company. Every company must become a data company. Business operations must be retooled using both process automation and worker augmentation.
A construct that I find useful as a futurist is to ask myself several simple questions in the face of a new force of change: What will stop, what will start, what will accelerate, what will decelerate, and what will transform? Think about how answers to these questions will affect your business in the future.
A colleague of mine, former Intel CEO, Craig Barrett, told me back in 2008 that the best way to weather a recession is to invest your way out of it. That way, when the market turns around you can race out of the gate ready to take fullest advantage of the upswing. No company ever saves their way out of a recession. Innovation will be vital to recovery.
For companies that heed Barrett's advice and choose to innovate their way out of recession, new technology will be key. As we reimagine products, services, channels, companies, and the entire economy for the rest of the 21st century, six strategic technologies—artificial intelligence, the internet of things, Blockchain technology, 5G and satellite networks, autonomous machines, and augmented reality—will each play an important part.
Every company needs to gain a deep understanding of these technologies and how they might be deployed to meet rapidly evolving consumer needs, to create new channels (that enable remote interaction), to automate business processes, to boost business continuity, and to deliver innovative new products and services that fuel economic growth.
The best way to get out of recession is to innovate your way out of it. The sooner we start to think that way, the sooner we can slingshot ourselves out of our current situation.
---
About the Author
Steve Brown is an energetic speaker, author, strategist, and advisor with over 30 years of experience in high tech. He is the former futurist and chief evangelist at Intel Corporation and helps others understand the business and societal impacts of new technologies and how they will shape the future five, 10 and 15 years from now. He is the author of The Innovation Ultimatum: How Six Strategic Technologies will Reshape Every Business in the 2020s. Steve holds Bachelor of Science and Master of Engineering degrees in Micro-Electronic Systems Engineering from Manchester University. He was born in the U.K. and became a U.S. citizen in 2008. He lives with his wife in Portland, OR.
https://www.strategydriven.com/wp-content/uploads/book-cover.jpg
1600
1200
Sharon Kastoriano
https://www.strategydriven.com/wp-content/uploads/SDELogo5-300x70-300x70.png
Sharon Kastoriano
2020-04-15 12:00:07
2020-04-15 20:05:24
6 Ways Technology Can Help Companies Innovate Out of the Coronavirus Downturn