Using Healthcare Performance Management as a Business Strategy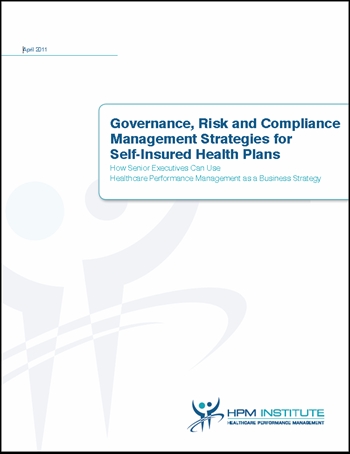 Explore how Healthcare Performance Management (HPM), combined with self-insurance, can empower organizations not only to better manage their governance, risk and compliance exposures, but also to deliver bottom-line business value to a company.
By applying the right people, processes and technology to those three focus areas, HPM can empower companies to execute a powerful business strategy that can reduce healthcare costs while also improving employees' health outcomes.
The first step rests with how companies choose to deliver health benefits to their employees. While every organization's healthcare plans differ, for example UCLA benefits offers custom packages for each employee, there are two ways coverage can be provided: through fully insured plans, in which they purchase coverage from an insurance company, or through self-insured plans, in which they directly cover employees' healthcare expenses.
Self-insurance recently has become the option of choice for a majority of the workforce. In 2008, the nonprofit Employee Benefit Research Institute (EBRI) found that 55 percent of workers with health insurance were covered by a self-insured plan. The decision to self-insure has been embraced enthusiastically by large corporations – 89 percent of workers employed in firms with 5,000 or more employees were in self-insured plans in 2008.
By self-insuring, employers can control the costs of providing health benefits to their employees because it allows them to:
Obtain more specific information about their actual healthcare expenditures.
Control costs, because instead of paying health insurance premiums that typically rise 9 to 10 percent per year, they can pay for routine expenses such as doctor visits, procedures and prescription drugs through a self-insured plan, obtaining lower-cost catastrophic or "stop-loss" policies to cover major medical events.
Enable better "human capital management" by recognizing in advance what types of health events are emerging in their covered population in time to help employees avoid a catastrophic event.
An HPM strategy has profound implications for senior management in the three critical areas of governance, risk and compliance. This manifests itself in the following ways:
Governance requires the active engagement of business units beyond human resources – strategic planners, financial and operations executives, and the IT group.
Self-insured firms must manage their own risk, so access to real-time data that is tied to the plan is imperative.
Although corporations have dedicated resources to compliance activities, an HPM system is automated and therefore can deliver those required reports as an ancillary function. This way, organizations can generate the necessary documentation for auditors, regulators and others without devoting valuable resources to that single function.
Governance, Risk, and Compliance Management Strategies for Self-Insured Health Plans: How Senior Executives Can Use Healthcare Performance Management as a Business Strategy explores how HPM, combined with self-insurance, empowers organizations to better manage their governance, risk and compliance exposures, and delivers bottom-line value to the company.
Click here to download a complimentary copy of this Healthcare Performance Management Institute report.
Want to learn more?
Listen to our recent StrategyDriven Editorial Perspective podcast interview with George Pantos, Executive Director of the Healthcare Performance Management Institute during which we discuss how companies can keep their current health plans in light of the recently passed healthcare legislation and under what circumstances they may wish to do so.
Related content from StrategyDriven
Podcast: Play in new window | Download (Duration: 19:57 — 27.4MB)
Subscribe: RSS
https://www.strategydriven.com/wp-content/uploads/SDELogo5-300x70-300x70.png
0
0
StrategyDriven
https://www.strategydriven.com/wp-content/uploads/SDELogo5-300x70-300x70.png
StrategyDriven
2011-05-16 06:17:08
2012-10-29 07:54:14
Using Healthcare Performance Management as a Business Strategy