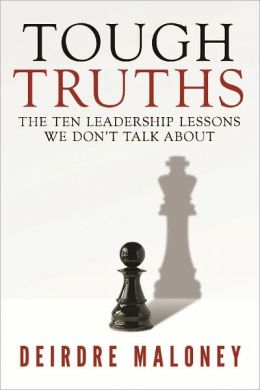 Tough Truths: The Ten Leadership Lessons We Don't Talk About

by Deirdre Maloney
About the Book
Tough Truths
by Deirdre Maloney is a collection of ten (plus one) uncomfortable to acknowledge and even more difficult to practice lessons embodied by great leaders. Within her book, Deirdre covers topics from personal Politics, Fear, and Energy to Reputation, Stories, and Hunger. Each examines the often unspoken realities of each topic, how the most successful leaders deal with the challenge, and actions readers can take to improve their leadership skills.
Benefits of Using this Book
StrategyDriven Contributors like Tough Truths for the simple, direct way in which Deirdre deals with the several personal challenges each leader faces. We appreciated both the real-world examples and immediately implementable actions provided for each area of discussion. This book could easily be used in daily reflection by new and seasoned business leaders and/or as a tool to mentor others.
As a seasoned leader, I did not find Tough Truths to be particularly revealing. But perhaps I've simply attended the same school of hard knocks Deirdre did. Regardless, her book was a sound reminder of what should be important to a leader and reflective of those I've most admired and aspired to emulate throughout my career.
As leaders, we need to remind ourselves of the character and practices we need to embody in order to motivate and inspire others. Tough Truths serves as a excellent reminder of those important aspects of leadership we, through complacency, may otherwise forget. For actionably addressing the difficult challenges of leadership, Tough Truths is a StrategyDriven recommended read.
---
FREE StrategyDriven Trial Membership

Start your FREE trial membership* and receive:

FULL ACCESS to StrategyDriven's premium content for 14 days
FREE COPY of a StrategyDriven Expert Contributor book†
EVALUATE how StrategyDriven gives you a competitive advantage
* Free 14 day trial included with a monthly membership registration. A monthly recurring subscription of $9.95 will begin after the initial 14 day trial period. Memberships can be cancelled at any time. Premium Member access will continue until the free/paid subscription expires.
† Available only to those living within the United States after the first monthly membership payment is received. Name and address information required. Books typically valued from $14.95 - $29.95 USD. Book value is not guaranteed.
---